Which to Buy? Pre-built or Custom PC?
Dec 13,2022 | Chriswira Chaylis
Are you thinking of getting a new personal desktop computer? Well, there are two options that you can choose in the market. One of them is a pre-built PC, while on the other hand it's a custom PC. So, what are the differences between these two and what are the perks they can offer? Well, without further ado, let's check it out in today's article.
Pre-built PC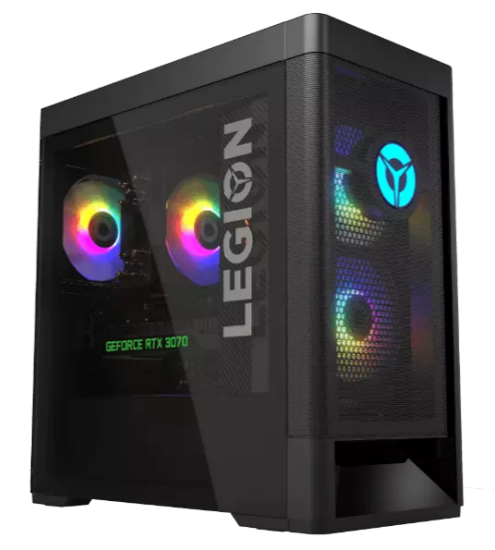 Sample of ASUS ROG and Lenovo Legion Pre-built PC
This model is usually built and sold by a well-known computer manufacturer, such as ASUS, Lenovo, etc. This can be an easy option for you if you are still new in desktop ecosystem. You can immediately enjoy the product after purchasing it. Though you cannot customize the specifications to your preferences, some pre-built PC models are still upgradeable (each model serves a specific purpose, so the components inside were installed based on its functionality, such as gaming, business, etc.).
Main Perks: convenient, factory-built specs, and some of models can be upgraded.
By the way, you can check our pre-built PC catalogue here: ASUS or Lenovo
Custom PC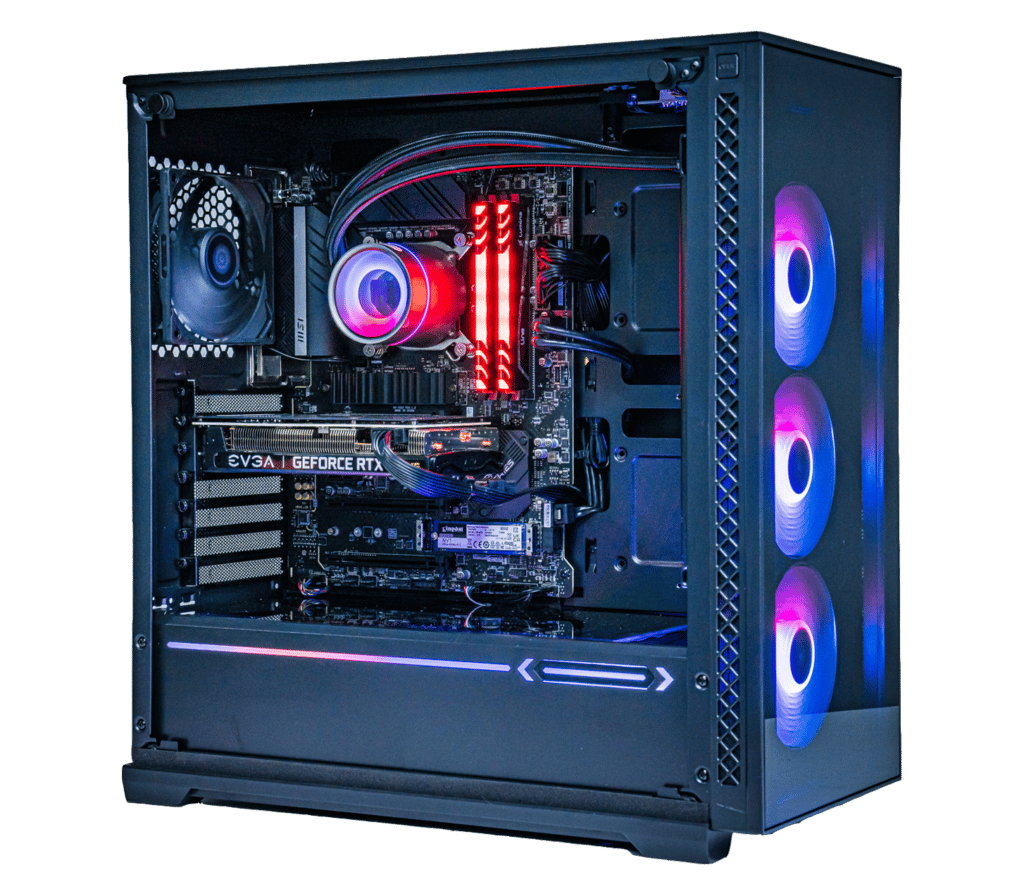 Sample of Custom PC – Img Source: PowerGPU.com
If you are a tech savvy or at least experienced enough with computers, getting a custom PC is totally the best option for you. You can choose the components that you want with the budget you have prepared. You can explore its performance freely and it enables you to explore your creative side. You can install components such as the processor (CPU), graphic card (GPU), RAM, storage, cooling systems, and other miscellaneous visual components to your liking.
Main Perks: personalized components, it's a fun thing for those who enjoy building PC from scratch, extremely upgradable and modifiable.
Before purchasing one, what to consider?
There are a lot of elements that you want to consider before purchasing one. Starting from budget, assembly time to tech support. Well, let's break it down one by one.
1. Budget
Your budget is the most important thing you should consider before you buy something. It will determine the specs of your PC, but the price margin might differ between pre-built and custom-built, though they share similar specs.
Pre-built PCs are usually manufactured by a well-known brand at a fixed price. So, in terms of price matters, pre-built PCs can be a little pricey if you compare them with the same specs on custom PCs. But fret not, sometimes a special deal will be available on some special occasion, such as: public holiday promo, Black Friday, or maybe a double date promo (ex: 10.10, 11.11, etc.).
For custom PCs, you can adjust your budget to your needs. For example, with about $800-$1,200, you can build a PC for daily use and can also run some simple e-sport games with any components that you see fit. When building a custom PC, there might also be a scenario where you sacrifice some specs for a cheaper one to excel in one component (ex: changing a 1TB SSD to a 512GB SSD and adding the budget to get a better graphic card).
Verdict: So-so. Price depends on a lot of factors and ongoing trends.
2. Assembly Time
Are you a newbie? Or are you the one who doesn't have a lot of time? Then a pre-built PC is the best option for you. All you have to do is plug it in to the power outlet and it's ready to use with the pre-installed OS.
But if you are a computer enthusiast who enjoys building computers from scratch and is able to patiently wait for hours for the programs to be installed, then a custom PC is the best choice.
Verdict: Pre-built PC wins. No time wasted and ready-to-use.
3. Modification
Basically, there are two major modifications. The first one is about component upgrades, while the other is about aesthetic matters. Let's focus on the component upgrade first.
If the machine is already pre-built from the factory, there might be an option for you to modify your PC, though it might be limited. For example, if you bought a pre-built gaming rig, but at some point in the future, when you want to change the inner components (let's say that you want to upgrade the GPU), you might face an issue in terms of PC case or socket incompatibility. So, you need to be precise if you are thinking of getting a new component.
For custom PCs, it is extremely modifiable. No comment.
For aesthetic matters, pre-built and custom PC can be modified to its fullest. Somehow, all you need to do is to explore your creative side. You can install some LED strips, or you can change its RGB fans to your liking.
Verdict: Custom PC wins. Extremely modifiable.
4. Software and Patch Update
Some pre-built models are built with fixed components, and though there will be driver and patch updates for several years. Once the support is over, then the components will be marked as outdated. If one of the components can be replaced, then you can always get new updates from time to time.
Once again, for custom PCs, since it's modifiable, once one of your components is outdated and no longer supports any kind of patch, you can simply change the hardware with the new one.
Verdict: Custom PC wins. No comment.
5. Tech Support
One of the benefits of purchasing a pre-built PC is that you can easily contact the respective brand's customer service if you have any problems with your device, and they may even direct you to their authorized service center for maintenance issues.
If you build your own PC, then you are expected to fix everything by yourself. Since you are a pro, right?
Verdict: Pre-built PC wins. Customer is king!
Summary
Pre-built PC

Custom PC

Budget

-

-

Assembly Time

✔

✖

Modification

✖

✔

Software and Patch Update