OLED Displays? What's the difference?
Dec 13,2022 | | OnSmart
Display screens have evolved over time. Starting with the CRT screen and moving forward to the more advanced technology nowadays. Some TV, monitor, laptop, and mobile device manufacturers have applied OLED displays to their product lineups, though LED screens still exist as well. Well, since our products are more focused on laptops, without further ado, let's get to know the OLED technology.
1. What is an OLED Display?
OLED stands for "Organic Light-Emitting Diodes," and this display technology has become popular recently. Basically, OLED devices are usually made of six components: a substrate, an anode, organic layers, a conducting layer, an emissive layer, and a cathode.
OLED displays have a main characteristic that is composed of three self-illuminated sub-pixels (red, green, and blue) and lit separately. This technology will allow you to enhance the colors on the screen.
2. How Does OLED Work?
A small array of small red, green, and blue dots (sub-pixels) work together to form pixels. Each of these has its own light source and independently lights up other pixels, then makes the three colors to project an image on the screen.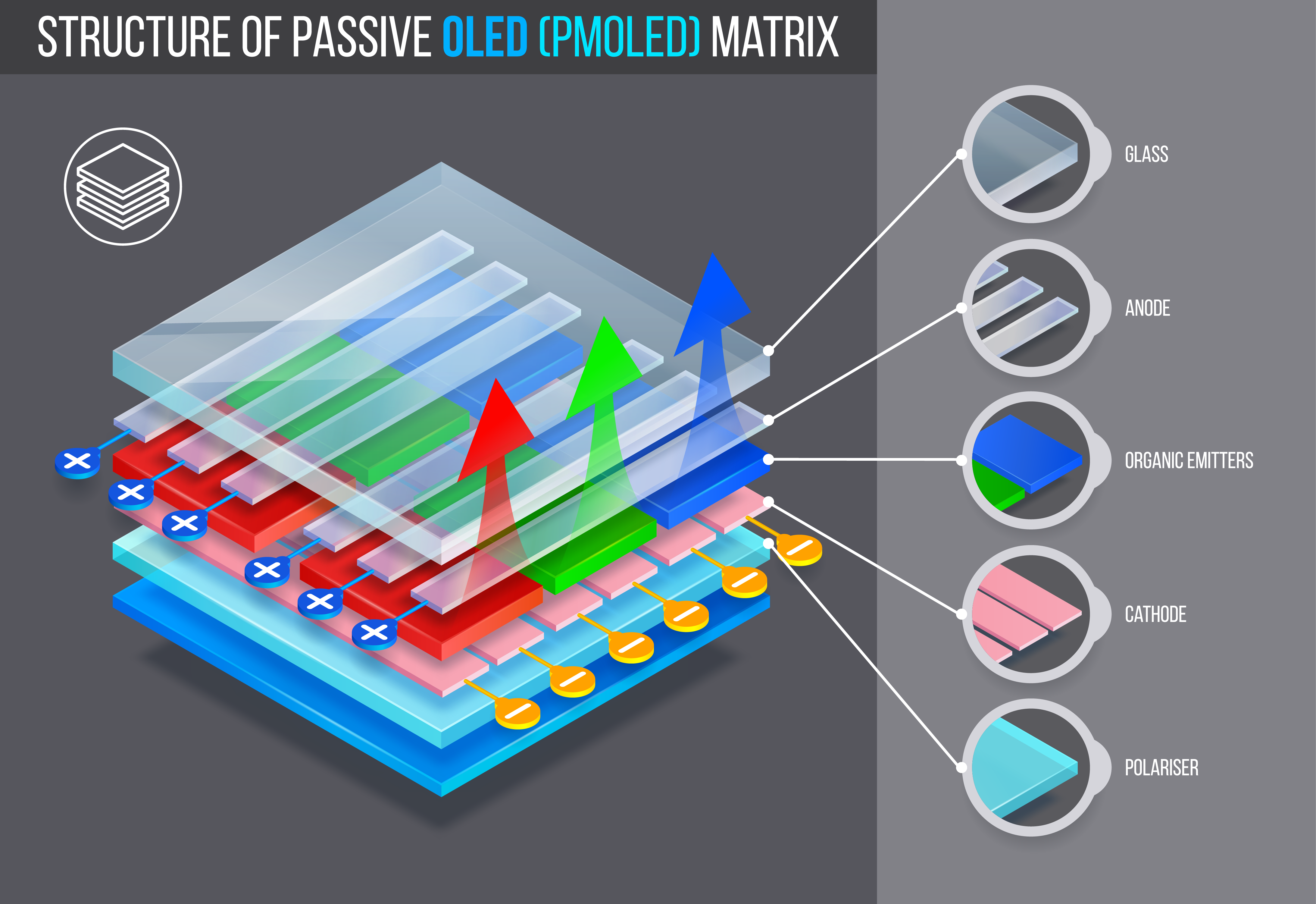 3. What Makes OLED Display Good?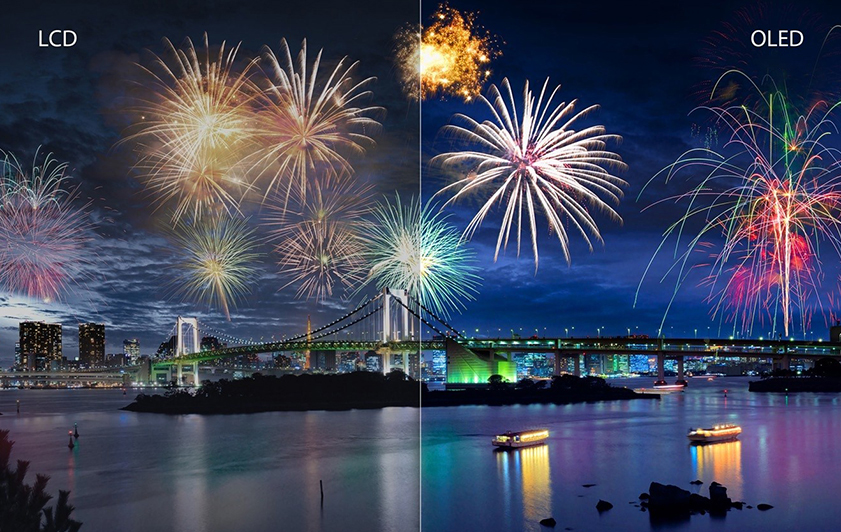 Image Source: ASUS.com
First of all, OLED displays are capable of displaying over 60 times more colors than most LCD screens (1.07 billion versus 16.7 million). Color gamut coverage is also more impressive, with 100% DCI-P3 coverage (compared to 62.5% on most LCD laptop screens).
The black color also needs to be highlighted. OLED displays are also performing better at low brightness levels. As you can see in the picture, the black color is kind of dark-greyish, but once it shows on the OLED screen, it shows its true color with a 1:1,000,000 contrast.
While the blacks are darker, the whites are brighter! LCD display can only produce up to 250 nits, while OLED displays are capable to produce up to 600 nits of brightness.
Last but not least, since OLED displays are using the organic compounds, it emits 70% less harmful blue light than most LCD display, so your eyes won't be strained though if you are in a long session of work. But always remind yourself to give your eyes a rest.
4. Do You Need an OLED Display?
After we elaborate the OLED technical specifications in general terms, do you think you need an OLED screen? Who are OLED displays designed for?
Creatives & Content Creators
Their job is creating things that related to visuals and they need a color-accurate display. Aside from that, these people tend to work in a long workhour. So, OLED display is the best option.
Professional Users
Let's assume that professional users are a laptop user. Laptops with OLED displays prove to be much more energy-efficient than LCD displays. In case that you forget to bring your charger, fret not you can still work for the whole day long. Even in battery-saving mode, you can still see the screen clearly despite of any level of brightness.
OLED displays are also suitable for small form-factor devices because they are made of plastic, which is lighter than LCDs, allowing laptops to be thinner and lighter than previously. If you are frequently on the move, this is an excellent option.
Movie Lovers, Gamers, and Casual Users
OLED displays are a perfect companion for these users. Whether you're watching a movie or playing games after hours, you can experience the smooth-moving and color-rich image on your screen. The other benefit that you can enjoy is that it consumes less energy.
...
So, what do you think about OLED displays?
By the way, we currently have promotions on laptops with OLED displays. To check out the promo, you can click this link: https://bit.ly/OS-OLEDPROMO
Alright, we guess that we're all done here. Thank you for taking the time to read this blog, and I hope to see you again in the next post. Have a good day, SmartPal!
Comment